SOUTH CHINA ENVIRONMENTAL& SAFETY MANAGEMENT ASSOCIATION
ELEVENTH MEETING IN GUANGZHOU
华南环保安全管理协会第十一次会议(广州)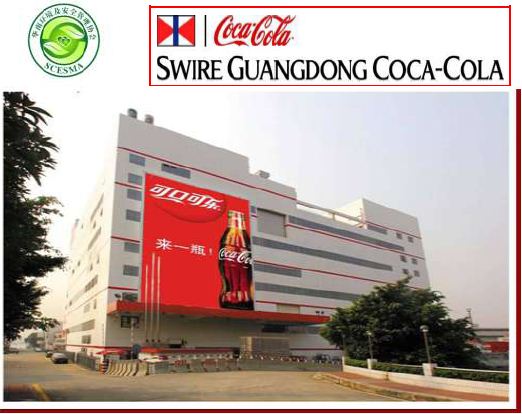 Date:16 September 2011 (Friday) 二零一一年九月十六日(星期五)

Meeting Venue (会议地址):Swire Guangdong Coca-Cola Ltd( 广东太古可口可乐有限公司);No. 998 Huangpu Road East, Guangzhou, Guangdong Province, China(广州市黄埔大道东998号)

Agenda (会议议程):
10:00am Introduction of the South China Environmental and Safety Management Association
10:20am Global Safety Standards adopted at Praxair
11:00am Optimizing Water Utilization in Swire Beverage
11:40am Hong Kong Jockey Club Safety Policy, Goals and Recent Development in China
12:10pm Lunch Break
14:00pm Plant Tour at Swire Guangdong Coca-Cola Ltd
15:00pm H&S support for Jockey Club's Conghua Horse Training Plan
16:00pm Adjourn

In our 11th South China HSE Network Meeting, we have the honour of having Swire Guangdong Coca-Cola Ltd, as our host in Guangzhou on Sep.16, 2011. Swire Guangdong Coca-Cola Ltd is the principal franchisee for Coca-Cola products in Guangdong Province. Located in the Huangpu district of Guangzhou with seven production lines, the company is Swire Beverages' largest bottling plant in Mainland China. It serves over 55 million consumers within Guangdong province.

The event on September 16, 2011, will commence with presentations by Praxair and Swire
Beverages, and the theme this time will focus on Global Safety Standards and Optimizing Water Utilization. In addition, Hong Kong Jockey Club will introduce their health and safety policy, goals and recent development in China. This is a valuable opportunity to know more about South China Environmental &Safety Management Association and visit her birthplace where her first meeting was held. Members and friends are welcome. Registration is limited to 30 participants.
Please send your registration to Mr Samuel Kwong by e-mail: samuelkwong@jsshk.com on or before September 9, 2011. Detailed logistics and other arrangements will be notified to the participants later. Also attached is the location map of the meeting venue for your reference.
Location Map Swire Guangdong Coca-Cola Ltd( 广东太古可口可乐有限公司)
No. 998 Huangpu Road East, Guangzhou, Guangdong Province, China (广州市黄埔大道东998号)